ПРОГРАММНО-АППАРАТНЫЙ КОМПЛЕКС ДЛЯ УПРАВЛЕНИЯ СТАНКАМИ С ЧПУ - ИННОВАЦИОННАЯ РОССИЙСКАЯ РАЗРАБОТКА, ВКЛЮЧАЮЩАЯ ПРОГРАММНОЕ ОБЕСПЕЧЕНИЕ И КОНТРОЛЛЕР ПЕРЕМЕЩЕНИЙ СЕРИИ PLCM


*при покупке контроллера PLCM базовые функции программы предоставляются бесплатно.




---

---

---

---

эффективная обработка объемных управляющих программ;
адаптивный интерфейс и поддержка сенсорных экранов;
визуализация УП в режиме 3D-поверхности;
поддержка внешних устройств управления (пультов и геймпадов);
режим симуляции для пробного выполнения УП;
интерфейс на двух языках (RU/EN);
бессрочный период использования всех приобретённых опций

---

---

---

---

PACKAGE OFFER

Оптимальный набор программных модулей для станков с ЧПУ

до 31.12.2019 г. действуют спецпредложения.


---

---

---

---
Package options
Optimal sets of functions for working on CNC machines. These options are suitable for milling, plasma or thermal cutting.
To simplify the selection options are structured into packages depending on the level of complexity of processing. When purchasing an option package, the customer gets a ready - to-use software product that provides all necessary production tasks.
Controllers
Plcm series controllers are specialized controllers of CNC systems designed to connect the CNC machine to the computer via Ethernet or USB interfaces. These devices interact with a special CNC PUMOTIX installed on the computer. The maximum number of simultaneously controlled axes is 6 (depending on the model of plcm controller used). The controller software is designed to unload the PC as much as possible and transfer most of the machine control functions to the controller.
About company
PUMOTIX is a new generation of software from Purelogic R&D, which has been working for more than 10 years in the domestic and international market for the production of electronic devices for CNC machines.

Purelogic R&D has always sought to improve its products and create a quality turnkey product: to supply not only components and machines, but also software for their full operation. That is why in 2016, the company's engineers have developed on the basis of the plcm series motion controller own hardware and software complex PureMotion (translated from English "clean motion"), which is well established in the CNC market.

With the growth of the customer base and applications for the development of new functionality, the company's management decided to create a new generation of software. In 2019, Purelogic R&D engineers started to develop a new hardware and software complex PUMOTIX. PUMOTIX has all the advantages of PureMotion and has a flexible licensing system. Now every purelogic R&D client has the opportunity to try out individual functions for free and buy the necessary software package for specific tasks, which can significantly save money.


Our partner
purelogic-r-d

Производство электронных устройств, станков ЧПУ и систем линейных перемещений.

Телефон

+7 (800) 555-63-74

ooo-tspa

Производство и продажа станков с ЧПУ различной сложности.

Телефон

+7 (473) 333-42-73

stanki-nn

Разработка и производство фрезерно-гравировальных и плазменных станков с ЧПУ

Телефон

+7 (800) 500 21 66

atlant

Производство станков термического раскроя металла (плазменного и газового).

Телефон

+7 (961) 353 26-67
В работе на станках с ЧПУ используются различные системы управления. Среди наиболее распространенных — Puremotion (PUMOTIX), Mach3, Mach4, NCStudio, LinuxCNC, UCCNC и др. Эти программы поддерживают работу различных видов станков (фрезерно-гравировальных, плазменной, лазерной и газовой резки, 3d-принтеров и т.д.), отличаются пользовательским интерфейсом и своими возможностями.
Одной из наиболее популярных программ управления ЧПУ станком является Mach3. Пакет используется для работы на фрезерных, гравировальных и токарных станках, оборудовании для лазерной и плазменной резки, и позволяет производить достаточно сложные изделия. По функционалу системы Mach3 существует много литературы и обучающего видео, что позволяет быстро освоить возможности ПО. В Mach3 имеется система макросов (М-кодов), основанная на использовании VBScript, что позволяет существенно расширить возможности обработки. Однако следует учитывать определенные недостатки Mach3:
• программная генерация сигналов STEP/DIR/ENABLE происходит на выходных контактах LPT-порта. Это ограничивает аппаратную поддержку ПО старыми ПК и не позволяет использовать ноутбуки дляуправления станком;
• производитель Mach3 больше не осуществляет поддержку этой версии ПО;
• известные проблемы «зависания» программы при выполнении объемных управляющих программ.

После Mach3, новая разработка компании Newfangled Solutions – Mach4. Программа отличается высокой скоростью работы и стабильностью при выполнении объемного G-кода. Однако лицензионное ПО Mach4 предъявляет достаточно высокие требования к оборудованию.
Система управления LinuxCNC работает только в операционной системе Linux. Она обладает расширенными функциональными возможностями и абсолютно бесплатна. Единственный недостаток — высокий порог входа: программа сложна в установке и настройке для пользователя.
При разработке системы PUMOTIX разработчики учитывали сильные стороны существующих на рынке продуктов. Благодаря этому удалось избежать ограничений на работу с современным компьютерным оборудованием (включая ноутбуки) и обеспечить быстрое и качественное выполнение объемных УП. PUMOTIX имеет интуитивно-понятный русскоязычный интерфейс, не требует от пользователя обязательных знаний в области программирования и гарантирует надежную работу станка.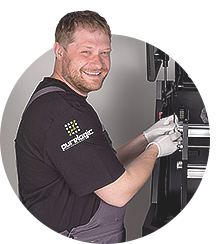 Have ideas but don't know where to start?
Write to us or order a call — we will help. We will listen to your tasks for business, and on their basis we will offer development options.