Hardware-software solution to control a CNC machine. Innovative Russian development including software and a PLCM motion controller.


*buying a PLCM motion controller you get basic functions of the software.




---

---

---

---

advanced service of holographic control programs;
adaptive interface and sensor screens support;
program control visualization in mode of 3Dsurface;
external control devices support (pendants and gamepads);
simulation mode for testing program control execution;
two languages interface (RU/EN);
unlimited application period of the ordered options.

---

---

---

---

PACKAGE OFFER

Optimum set of program modules for CNC machines.



---

---

---

---
Package options
Optimal sets of functions for working on CNC machines. These options are suitable for milling, plasma or thermal cutting.
To simplify the selection options are structured into packages depending on the level of complexity of processing. When purchasing an option package, the customer gets a ready - to-use software product that provides all necessary production tasks.
Electronics
Purelogic R&D manufactures different kinds of electronic hardware for milling and plasma CNC machines. Please see products categories, their variety is very wide and they can be useful for this or that aim. Having one of the motion controllers below, you get basic options of Pumotix free. All the mentioned CNC boxes contain improved versions of the software also free.
About company
PUMOTIX is a new generation of software from Purelogic R&D, which has been working for more than 10 years in the domestic and international market for the production of electronic devices for CNC machines.
Purelogic R&D has always sought to improve its products and create a quality turnkey product: to supply not only components and machines, but also software for their full operation. That is why in 2016, the company's engineers have developed on the basis of the plcm series motion controller own hardware and software complex PureMotion (translated from English "clean motion"), which is well established in the CNC market.
With the growth of the customer base and applications for the development of new functionality, the company's management decided to create a new generation of software. In 2019, Purelogic R&D engineers started to develop a new hardware and software complex PUMOTIX. PUMOTIX has all the advantages of PureMotion and has a flexible licensing system. Now every purelogic R&D client has the opportunity to try out individual functions for free and buy the necessary software package for specific tasks, which can significantly save money.

Our partner
BND Group (Romania)

Telephone

+40 721 980 095
There are different types of software systems to control CNC machines. The most popular of them are Puremotion (PUMOTIX), Mach3, Mach4, NCStudio, LinuxCNC, UCCNC, etc. The programs support various types of CNC machines (milling and engraving, plasma, laser and gas cutting, 3d printers, etc.) and differ in user interface and capabilities.
One of the most popular CNC software is Mach3. The package is used to work on milling, engraving and turning machines, equipment for laser and plasma cutting, and allows to produce quite complex work-pieces. There is a lot of literature and training videos about Mach3 functionality which provides with a possibility to learn the software features very quickly. Mach3 has a macros system (M-codes), based on the use of VBScript, that allows to expand processing capabilities significantly. However, there are some disadvantages of Mach3:
• software generation of STEP/DIR/ENABLE signals are processed on the output pins of the LPT port. That limits hardware support FOR older PCs and prevents laptops from being used to control a machine;
• Mach3 manufacturer no longer supports This SOFTWARE version;
• known "hang" problems of the program at execution of volume control programs.

The new version of Newfangled Solutions (Mach3 developer) is Mach4. The program excels in high speed and stability of performing holographic G-code. However, the licensed Mach4 software imposes quite high requirements to hardware.
LinuxCNC software is compatible only with Linux operating system. It has advanced functionality and is absolutely free. (The only disadvantage of the software is that it's too complicated to install for beginners.
Developing PUMOTIX, the developers took into account the strengths of existing products on the market. With their efforts, it was possible to avoid restrictions on connecting with modern computer equipment (including laptops) and to provide fast and qualitative performance of volume tasks. PUMOTIX has an intuitive English interface, does not require a user to have mandatory knowledge in programming sphere and guarantees reliable operation of a machine.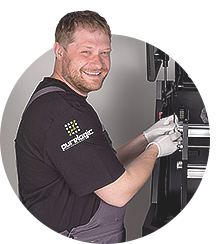 Have ideas but don't know where to start?
Write to us or order a call — we will help. We will listen to your tasks for business, and on their basis we will offer development options.